Gasfield Justice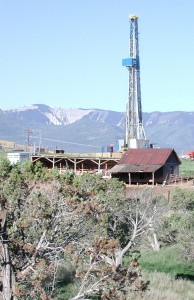 Oil and gas development imposes steep costs on nearby communities. Residents may be directly impacted by air pollution, noise and water contamination; the wider community is apt to experience increased traffic, strained infrastructure and social services, and economic upheaval.
WCC's Gasfield Justice Program helps people in the Piceance Basin of western Colorado join together to have a fair say in where and how drilling will occur. Our position is not that oil and gas development should be banned, but rather that it shouldn't be done everywhere, and it must be done right. WCC is working for:
At least 1,000-foot setbacks from homes and 1,500-foot setbacks from schools
Legal standing for neighbors and longer public comment periods
High performance standards if drilling is allowed near people
Protection of local government power to regulate industry
More inspection of wells near people, populated areas or waterways
Higher penalties for rule-breakers, especially repeat offenders
Financial assurance that covers damage to nearby properties
Investment in air quality monitoring near oil and gas facilities
Comprehensive study of public health impacts
Battlement Mesa
Although most residents didn't know it until recently, Battlement Mesa, a retirement community along I-70 in western Garfield County, has been slated for oil and gas development ever since the establishment of the planned unit development in the 1980s. The current owner of the mineral rights under the community, Ursa Resources, announced earlier this year that it plans to drill 53 wells on two industrial-scale pads, with the potential for three more pads in later phases. One pad is proposed to be less than 200 yards from some houses.
WCC and its Garfield County chapter, Grand Valley Citizens Alliance, are actively supporting Battlement Concerned Citizens, which formed in 2009 to oppose the plan. We are utilizing county and state reviews of the proposal to push for relocation of the wells to a safe distance from the community, and for mitigation of any impacts.
Mesa County proposals
In Mesa County, Fram Operating is seeking to drill 108 wells on nearly 26,000 acres along the western flanks of the Grand Mesa. A large portion of this area lies in or near the watershed that supplies drinking and irrigation water to Grand Junction, the Western Slope's biggest city. We have appealed the local Bureau of Land Management (BLM) office's approval of the project with minimal environmental review, and we've received indication that the state BLM director may send it back to the drawing board for additional review. Our members stand ready to either lead the campaign to advocate for better consideration of air and water quality and landowners' rights or to challenge the ruling through litigation.
In addition, Mesa County is now facing a new drilling threat, a 104-well project near Debeque proposed by Black Hawk Minerals. This project would potentially cause additional impacts to the community that would receive wastewater from the wells. We're currently reviewing the plan.
North Fork Valley
The BLM is considering multiple oil and gas leasing proposals in Delta County's North Fork Valley, which pose a clear threat to the valley's expanding organic farms and orchards and to its drinking water supplies. We intend to strongly advocate for the so-called Citizens' Alternative in the forthcoming draft Resource Management Plan for the region, which would protect these critical areas.
Meanwhile, we'll continue to support our North Fork allies in their response to a proposed lease swap that would transfer the threat of drilling from the Thompson Divide to the upper North Fork watershed. Members of our Public Lands Committee are working to protect the proposed receiving area, which includes the biologically rich Hubbard Park and Stevens Gulch.
State oil and gas rulemaking process
In the wake of an unpopular compromise to keep a slew of oil and gas initiatives off of the 2014 state ballot, the Colorado Oil and Gas Conservation Commission (COGCC) is currently considering new rules to govern drilling within residential communities. The rules could also affect the role local governments can play in deciding where and how drilling is done.
Although the rulemaking is very narrow in focus, and a far cry from the solution that people across the state are calling for, WCC is participating in the process in the hope that it might produce some crumbs of additional leverage for communities dealing with drilling proposals on their doorsteps, such as Battlement Mesa. While the process itself has been dismal, it has led to an exciting opportunity to start building a statewide coalition of groups representing communities impacted by oil and gas. We're currently exploring ways to combine our power to fight for statewide oil and gas reform, rather than fighting bad proposals one at a time.
Contact WCC Organizer Emily Hornback at (970) 256-7650 or [email protected] for more information or to get involved.