Editorial: Dominguez - well worth protecting Grand Junction Free Press, 4/3/09
Feature: Walk along little Dominguez... Grand Junction Daily Sentinel, 4/19/09
Learn more about:
Recent Updates
The Dominguez-Escalante National Conservation Area and the Dominguez Canyon Wilderness were made official on March 30, 2009, when President Barack Obama signed the Omnibus Public Lands Act which included other areas across the nation.
This victory, the culmination of more than a decade of citizen action by WCC members and allies, secures enduring wilderness protection for 66,280 acres of Dominguez Canyon within a 209,610-acre NCA. The wilderness area is about 20 miles south of Grand Junction, on the northeastern edge of the Uncompahgre Plateau.
Opportunities to be involved in the future of the NCA and Wilderness Area include:
The Bureau of Land Management (BLM) will be working with the public to develop a resource management plan (RMP) for this new National Conservation Area. The RMP will determine the long-term allowed uses and management – including a comprehensive travel plan.
WCC members will continue to monitor conditions and do trail work in Dominguez Canyon.
To learn more or get involved contact Amy Montano at (970) 256-7650.
WCC members have successfully worked:
for the creation of what is now the McInnis Canyons National Conservation Area in Mesa County in October 2000.
for the reduction of cross-country, off-road vehicle travel in the Gunnison Gorge National Conservation Area in Montrose County by 95%.
to rally local support for the protection of the Roan Plateau in Garfield County from the impacts of gas drilling.
WCC is part of the Save Roan Plateau coalition, working to ensure balanced management of this biological hotspot in light of gas drilling proposals.
The Colorado Environmental Coalition unites Coloradans to protect our state's environment and quality of life.
The Southern Rockies Conservation Alliance is a coalition of conservation and recreation organizations focusing on protection and preservation of public lands in Colorado and southern Wyoming.
To learn more or get involved contact Amy Montano at (970) 256-7650.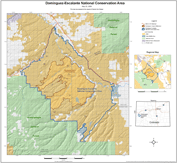 Click here for a larger version of this map of the greater Dominguez Canyons area.