Join WCC and Your Local Community Group Now!
Western Colorado Congress has more than 1500 members in five community groups. Our groups tap into the expertise of a professional organizing staff based in Grand Junction as well as a lobbyist who represents our interests in the State Legislature.
You can join WCC or make a donation by clicking on the buttons at right.  If you want to give a gift membership, please enter the person's name and address in the "Delivery Notes and Other Comments" field.
General & Gift Memberships
Joining WCC is very affordable and ensures your voice is heard on the important current issues facing Western Colorado. Yearly dues include a subscription to our quarterly newspaper, The Clarion, email issue alerts and many other issue-based updates.
Dues include membership in WCC and your local community group.   Rates are:
$35 Individual
$55 Family
$10 Student
$25 Individual - limited income
$35 Family - limited income
$100 Friend or Business/Organization
Major Gifts
More than one-third of our overall budget is provided by our Major Donors (those who give $200 or more each year).  We welcome your support as a Major Donor! Join us today at one of these levels:
$200 Valley Club
$500 Canyon Club
$1000 Mesa Club
$2500 Plateau Club
$5000+ Summit Club
Other Ways to Give
Western Colorado Congress is sustained by its supporters with more than 50% of our income originating directly from our membership. There are many ways to support Western Colorado Congress from direct issue involvement and volunteerism to donations, membership and charitable gifts.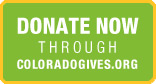 Monthly Giving: Your monthly payment is automatically deducted from your checking or credit card account. For as little as $17/month you can be a WCC major donor!  You can set up a recurring (monthly) donation through ColoradoGives.org — just answer, "Is this a recurring donation?" with "YES"!
End of Year Donations: Make a positive difference in Western Colorado's future with your year-end donation
Colorado Gives Day: WCC participates in this annual 24 hours of giving in early December each year.
Volunteerism: Volunteer with us—we have endless opportunities including issue-based activism, event help, general tasks and would love to utilize your special skills and talents. Contact Donna Page, Development Coordinator, for more information at (970)256-7650.
Western Colorado Congress is a 501(c)(3) organization so your membership and contribution is tax deductible to the extent allowed by law.
THANK YOU!