Tell Garfield County that toxic waste water wells don't belong next to our drinking water supply
Earlier this month, Ursa Resources and Battlement Mesa Partners asked Garfield County to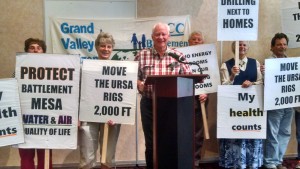 change the language of Battlement Mesa's founding document to allow for oil and gas waste water injection wells within our community. The issue will be heard by the Garfield Planning and Zoning Commission on February 8 at 6pm at the Garfield County Administration Building.
If this change is allowed, Ursa Resources will be one step closer in placing an injection well within several hundred feed of Battlement Mesa's water intake on the Colorado River. This injection well has been hotly contested by residents and the Colorado Department of Health and Environment, who last year recommended that the COGCC deny injection well.
Help us protect our drinking water. Here's how:
Download and read the application here. Comments can be mailed to Glen Hartmann at the Garfield County Community Development Department at

[email protected]

Attend the Planning Commission meeting on February 8 at 6pm at Garfield County Building (108 8th St in Glenwood Springs) and tell them to vote NO on re-zoning. 
Points for your comments:
There is no geologic reason for Ursa to place a toxic wastewater injection well so close to our water supply. They can find other locations for the well and use pipelines to move the water
The Colorado Department of Health and the Environment has specifically stated Class II injection wells do not belong in residential areas and told the COGCC to deny an application to put an injection well so close to the water intake
Injection well are not connected to any property right issues, as it is not required to develop mineral rights. The only entities who benefit from this action are Ursa and Battlement Mesa Partners
The proposed amendment would create a new zone in Battlement Mesa to expressly allow for injection wellS near our water supply and the Colorado River. This action could open the door to an unknown number of toxic waste water wells being allowed within our community.
In addition to scientifically being found to cause earthquakes, injection wells & their associated storage tanks have a poor safety record and have been know ignite. There have been three major injection well/wastewater storage explosions and fires in Colorado alone.
Battlement Mesa Partners is risking the health of the entire community by allowing the storage of toxic wastewater next to a drink water supply, breaking with the covenants and the public trust of the community