On May 4, 2016, Governor Hickenlooper signed into law a measure that makes it easier for farmers to meet the growing market demand for farm fresh poultry and increases opportunities for cottage food producers.
Western Colorado Congress members worked with allies at the state capitol to support this bill and made sure that family farms can innovate and diversify while preserving adequate food safety measures. We offered amendments in both the Senate and the House and are pleased with the final results.
We are working on updated fact sheets as the new law is implemented and will share that information here as soon as we have it available. In the meantime, visit our Cottage Foods Page for general information about the Cottage Food Act.
You can read the final version of the bill here: Senate Bill 16-058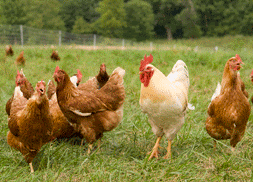 This bill modifies the Custom Processing of Meat Animals Act and opens the door for small and mid-sized poultry producers to take advantage of existing USDA exemptions for on-farm custom processing.  Access to processing has long been a significant barrier for small and mid-scale pastured poultry producers, leaving them unable to meet the growing market demand.
Here's what's allowed. Under the new law, farmers who raise and slaughter less than 1,000 birds per year are exempt from the provisions of the Custom Processing of Meat Animals Act, but must still comply with record keeping and labeling requirements. Producers who want to slaughter more than 1,000 but less than 20,000 birds per year must obtain a license from the Colorado Department of Agriculture.  Both licensed and exempted poultry producers can sell their processed birds direct to individuals.  The bill instructs the CDA to consult with the Colorado Department of Public Health and Environment about labeling for birds sold under the act.  In addition, CDA must convene a stakeholder group to develop the regulatory framework to allow for the retail sale of poultry processed under the act.
Readers who want information about how to participate in the stakeholder group can contact Rachel Zatterstrom at r[email protected] or (970) 409-9820
In the final analysis, this bill shows that scale appropriate food safety regulations make sense for Colorado and contribute to the success of innovative and diverse small farms across Colorado. It is a huge step forward and will lead to more secure and profitable small farm businesses and increased consumer access and options.
.